You've got your key Drift playbooks written, they're set up on your website, the sales team is ready to go and the conversations are happening. But now what? How do you decide your own 'next best action' of what to do first to accelerate conversational marketing?
We've outlined the key next steps to step up your game and get Drift really firing. These steps are on the assumption that you're playbooks have been running for at least three months and you've fully onboarded.
Let's get to it.
1. Take a look at your performance
First things first, take a look at your performance. You're looking specifically for the Chat Playbook reports in the Reports section. Run a report for all the playbooks and see how they're doing.
I like to run a quarterly report so I can compare month-on-month. The biggest things to look for are:
Number of conversations started
Meetings booked
If the numbers look low, then it's probably time to ask 'why' and think about optimising the copy, the flows and whether you need to add more variants.
What's 'low' I hear you ask?
Well, our aim is  2% of site visitors will start a conversation with a playbook.  We'd expect 20% of those to generate lead captures, and 3% of playbook conversations will lead to a calendar drop within the playbook, and then 1.5% of calendar drops lead to a meeting booked.
These are averages and your performance might be better or worse… you'll certainly get a feel for which playbooks need attention though.
 2. Optimise existing playbooks
After you've ran the report you can see where to focus your next actions.  It's likely that it's been a few months since you launched the playbook, so look at the following and make adjustments. The best place to find out how a playbook is performing is in the Conversation Flow. You can get to this from Reports > Chat Playbooks > Overview > Select Playbook > Conversation Flow.
With this report, you can see all the copy at each section within the playbook and the drop-off rates and engagement rates. It's a great place to see where you need to focus:
Identify the drop off points and review the copy: what changes could you make?
Can you identify new areas to add new content?
Do you need to rethink the flow?
Are there any lead management changes you need to make?
3. Build out a roadmap
After reviewing the reports, performance and drop-offs within the playbooks, you'll identify lots of opportunities.  First actions now are to prioritise. Think about your key stakeholders and their requirements and needs.
Key areas to consider:
Are there any new campaigns that need playbook support?
Do the sales team need support?
Where do you need to support conversions better?
Use these priorities to build out a roadmap for the next quarter and start the implementation piece. Drift's conversational blueprint is a great place to start.
4. Extend your playbook portfolio
As part of onboarding, you'll have at least three playbooks live.  These will be the basic playbooks you identified right at the start of your journey.  Now is the time to think about extending the playbooks and the scenarios.
You may get direction as part of the roadmap that you've just built out, but you may want to put forward your own ideas too. A great way to do this is:
Check the top landing pages on your website for evergreen opportunities
Speak to the marketing teams about what they're doing and where they need to improve conversion rates
There are masses of scenarios where a playbook comes into its own.  My favourites are for paid advertising (based on source), account-based marketing campaigns (based on lists) and top product pages (based on page).
5. Conversational landing pages
Drift isn't just about chatbots, you can create landing pages too where you can showcase your content allowing a playbook to launch as the reader consumes your smart content.
These landing pages are particularly good if you're considering lowering the barriers to access content (removing forms and making the content accessible without a gate).
Another great thing about the landing pages is that you can customise the URL and styling of the page. This means you can make the pages consistent with your brand, as well as the option to impress your high value prospects using their company branding. You can also set-up a subdomain for consistent URLs.
6. Conversational ABM
A more advanced feature is to support Conversational ABM, where you sync Salesforce and Drift to align with your ABM activity.
By sharing a list with Drift you can enable personalised playbooks to launch for your key accounts – this can really play into your ABM strategy, whether you're doing one-to-one, one-to-few or one-to-many ABM.
Not only that, but you can connect it back to the key account manager assigned to that account, meaning they can jump on for a personalised chat, so when your VIPs hit the website, you know they're being looked after.
If you're planning on incorporating Drift into your ABM strategy, there's a really helpful article here and you can do this on any paid plan, starting with Premium.
It's also important that sales and marketing work together to design a suitable ABM journey.
7. Leverage your power users to get even more traction
Sometimes it's not about how good the playbooks or the performance of them. Instead, areas of improvement lie with how the business development reps or sales team engage.
Usually, you'll see a power user who is smashing it!  This is an opportunity to showcase their success and encourage better adoption across other users. It's a simple case of rinse and repeat.
The way to assess this is by looking at their response times in the reports section.  Find this by navigating to Reports > Team Performance > Overview and you'll see all the users and their stats.
Then, think about how you can make their lives easier by ensuring that they have:
Downloaded the app
Connected their calendars
Notifications are enabled
Consider Fastlane to accelerate super-hot leads
8. Accelerate your sales cycle with Fastlane
If you love forms for high value conversion points, then you'll love this.  Fastlane is a new type of playbook that will show up for leads after a form submission. It supercharges the sales process so that you can route qualified leads to a salesperson or launch their calendar immediately, allowing leads to skip the sales queue.
Fastlane is available on Advanced or Enterprise plans, so you may need to upgrade.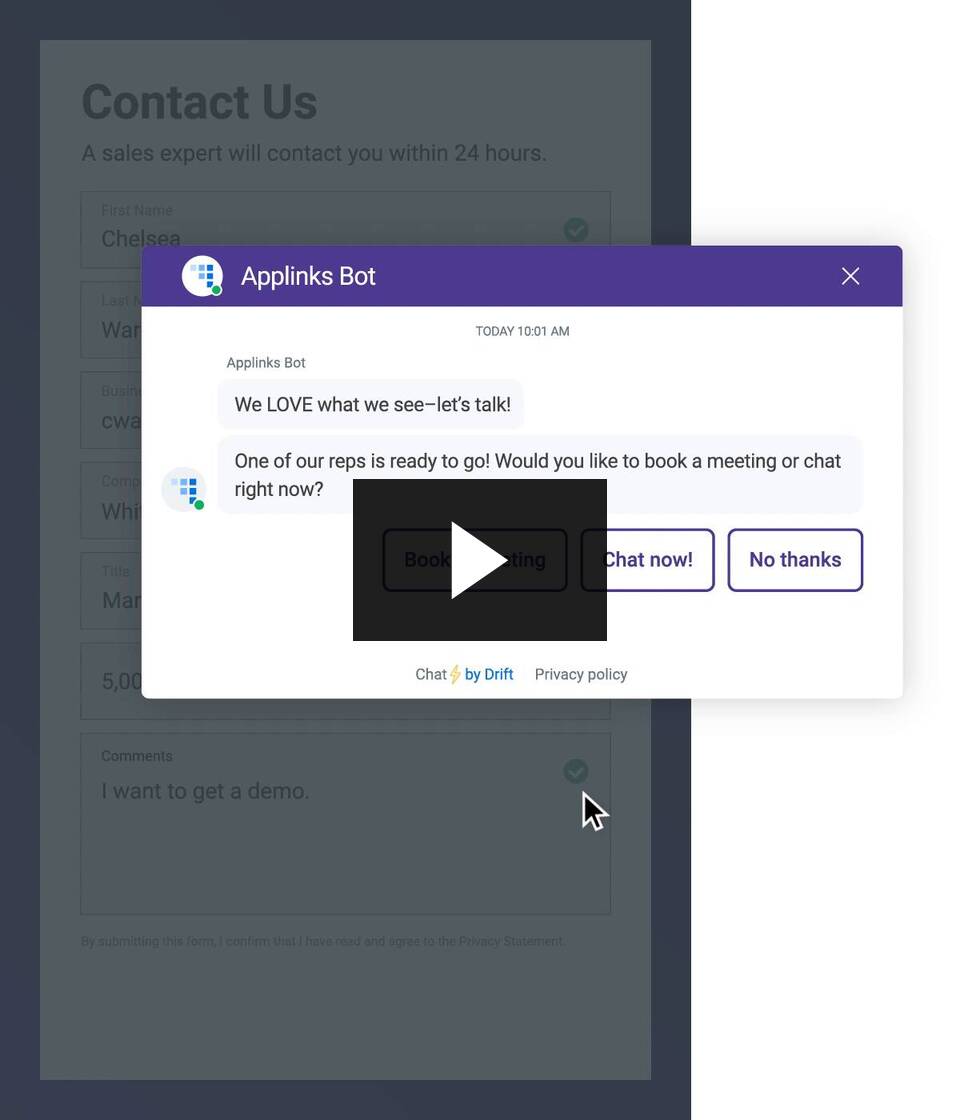 9. My favourite but simple playbook: Returning Visitor
I thought I'd finish up this post with my favourite playbooks. The first is a Returning Visitor playbook. You know they're interested in your products and services becausethey're back for a second bite of the cherry.  The Returning Visitor bot is simple, yet fierce, recognising their visit and helping them get to information quicker.
Second-time visitors are likely be looking for more sales orientated information, so design this playbook to meet their needs and focus on higher intent, lower funnel content or conversion points.
10. My second favourite: the Paid Media playbook
We work hard with a lot of clients to drive conversions – and many of our clients spend a significant chunk of their budget on paid ads – especially Google, so improving conversion and ROI is a key priority.
With the full functionality of Drift, you can deliver various playbooks for different paid strategies, customising the playbook based on the ad content or the targeting – which I love!
So there you have it… 10 ways to step up your use of Drift by leveraging performance optimisation, internal champions, playbook essentials and new features.
If you need any help building out a plan, integrating Drift or making sure your playbooks are optimised, we'd be happy to help. Just get in touch.